Overview
DebtMiner redefines simplicity for in-depth analysis of delinquent debt portfolios giving portfolio owners, buyers, sellers and brokers the tools necessary to accurately assess a debt portfolio for profitability, risk, quality and compliance using our intuitive website design.

DebtMiner analyzes all aspects of account level and consumer level data including data quality, data discrepancies, demographics, state licensing, SOL (statute-of-limitations), credit reporting life, and much more.

Debt portfolio analysis reports can be shared with potential buyers making DebtMiner a great tool for brokers or if you're just looking to sell your own portfolio of debt. All PII (Personally Identifiable Information) is kept private and secure, so there is no need for you to mask your data or risk having your data land in the wrong hands.

Our mission is to make it so convenient, easy and cost effective to analyze a debt portfolio that DebtMiner can seamlessly integrate as a part of your standard process.


Over 40 basic and comprehensive reports
Reports are easy to read in both detail and graph views
Demographic analysis
Discrepency analysis
FCRA Credit reporting life analysis
Statute of Limitations analysis
Data quality analysis
State licensing / no-collect state analysis
Bankruptcy scrub
Deceased scrub
Simple & Secure
Results within minutes
All PII data is protected and kept private
State and County level report segmentation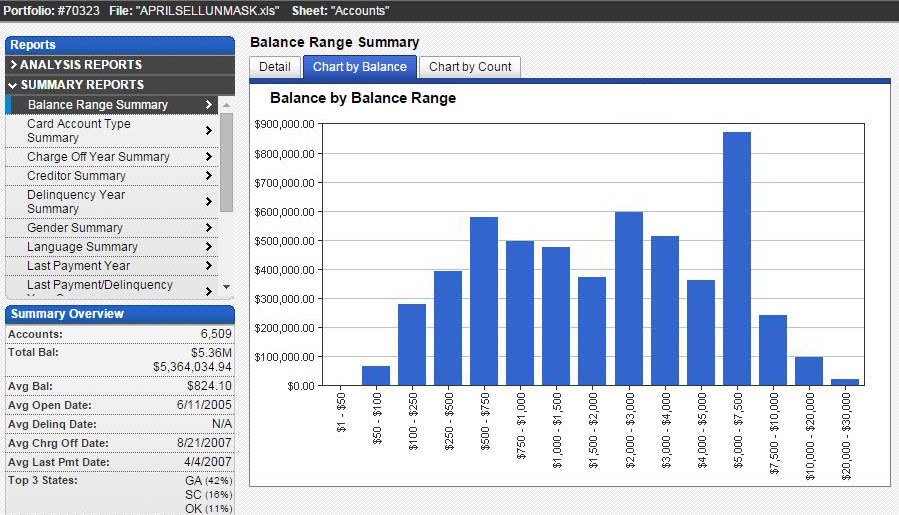 Live Demo
So you're ready to get a taste of what DebtMiner can do for you?
Click the "Live Demo" button below to explore a real-world demonstration of a debt portfolio analysis.